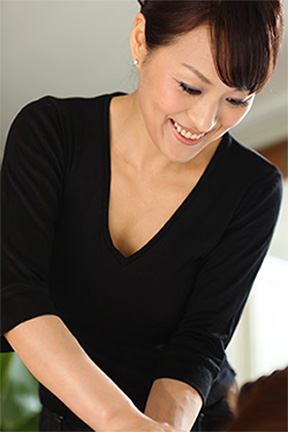 MIKIKO HAYANO
Pharmacist
Therapist
Specialist health and beauty
Originating from a family of doctors and chemists, Mikiko Hayano graduated from the school of pharmacy at the Tokyo University of Pharmacy and Life Sciences, before going on to a top Japanese research facility to learn theory and practice of Eastern medicine.
In order to focus on beauty and health studies she moved to London where she trained as a therapist and attained more than 15 top-level qualifications in the UK.
Back in Japan, 2003 saw the opening of the salon ABSOLU HERBEEN TOKYO, offering individually tailored, health and beauty treatments. Her formula, centered around massage and specialist advice, incorporates elements of Japanese Traditional Herbal medicine, complementary treatments and use of the best cosmetics for the individual client. Hayano now has a strong client following; male and female, young and old.
While managing her salon, she succeeds in travelling widely and continues to explore and communicate her expert knowledge in beauty, health, and spas. She is a highly regarded journalist both domestically and internationally and writes for and features in numerous magazines and websites.
Hayano is passionate about evolving health and beauty methods which are adaptable to individual client needs. She draws on her unique, groundbreaking knowledge of medicine, pharmacy, and combinations of methods from East and West.